New Iraqi Dinar Notes - a detailed description
The main 6 denominations of new iraqi dinar notes are:
25,000 dinar
10,000 dinar
5,000 dinar
1,000 dinar
250 dinar
50 dinar
They were launched in 2003 and they were very similar to those issued by the Central Bank of Iraq in the 1970s and 1980s. The new Dinar replaced the old Dinar bearing the face of Saddam Hussein. The new denominations were printed in England by the Hampshire-based company "De La Rue". In 2004 a seventh 500-Dinar denomination was issued to help facilitate market transactions.

Click to see security Features



D E S C R I P T I O N.
Denomination: 25,000 new iraqi dinar note
Front: Kurdish farmer holding sheaf of wheat. Tractor in background.
Back: King Hammurabi. Credited with writing the first code of law. Founded the first Dynasty of Babylon in 1700 BC and led Babylonia into great prosperity.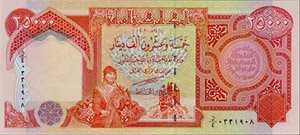 Denomination: 10,000 new iraqi dinar note
Front: Abu Ali Hasan (Alhazen) born in Basrah in 965 AD. Wrote books on optics giving the first correct definition on vision, showing that light is reflected from an object into an eye. He is said to have invented the camera obscura.
Back: Hadba Minaret at the Great Nurid Mosque Mosul built in 1172 by Nurridin Zangi, the Turkish ruler. The minaret is 58m high and leans 8 feet off the perpendicular. For this reason its Arabic name is Al-Hadba, which means "the humped".


Denomination: 5,000 new iraqi dinar note
Front: Gully Ali Beg and its 800m waterfall. It passes beween Mount Kork and Mount Nwathnin, 60km away from Shaqlawa.
Back: The 2nd century desert fortress of Al-Ukhether, Hejira.


Denomination: 1,000 new iraqi dinar note
Front: A gold dinar coin that was used in this region before more modern coins and notes came along.
Back: Al-Mustansirya University in Bagdad. It was built in mid-thirteenth century and it was the most prominent university in the Islamic world in the Middle Ages.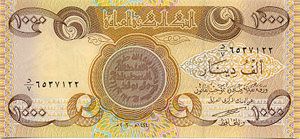 Denomination: 250 new iraqi dinar note
Front: The astrolable, one of the earliest scientific instruments. It was able to measure the time of day or night, including altitude and latitude. It was invented by the Greeks but was further developed by Arab astronomers.
Back: The spiral Minaret in Samarra built 848-849 A.D. At that time Smarra was the Abbasid Empire's capital.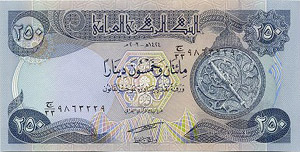 Denomination: 50 new iraqi dinar note
Front: The grain silo at Basrah. It was able to off-load and process 60,000 tonnes of grain per hour.
Back: Date Palms. Iraq has over 600 varieties of dates and used to be the world's largest producer.


Click to find how to order dinar notes from dealers on-line



In 2004, new 25 and 100 dinars coins were introduced:
25 dinars Coin:
Diameter: 17.5 mm
Weight: 2 g
Composition: Copper plated steel
Front Enscription: "Central Bank of Iraq" and "25 dinars"
Back Enscription: Outline map of Iraq



100 dinars Coin:
Diameter: 22 mm
Weight: 4.3 g
Composition: Nickel plated steel
Front Enscription: "Central Bank of Iraq" and "100 dinars"
Back Enscription: Outline map of Iraq


Advertise Here



Back to Home